SKELETON SELECTION RACES AND USABS NATIONAL CHAMPIONSHIPS, PRESENTED BY ORORO HEATED APPAREL, TAKE PLACE IN MT. VANHOEVENBERG
SKELETON SELECTION RACES AND USABS NATIONAL CHAMPIONSHIPS, PRESENTED BY ORORO HEATED APPAREL, TAKE PLACE IN MT. VANHOEVENBERG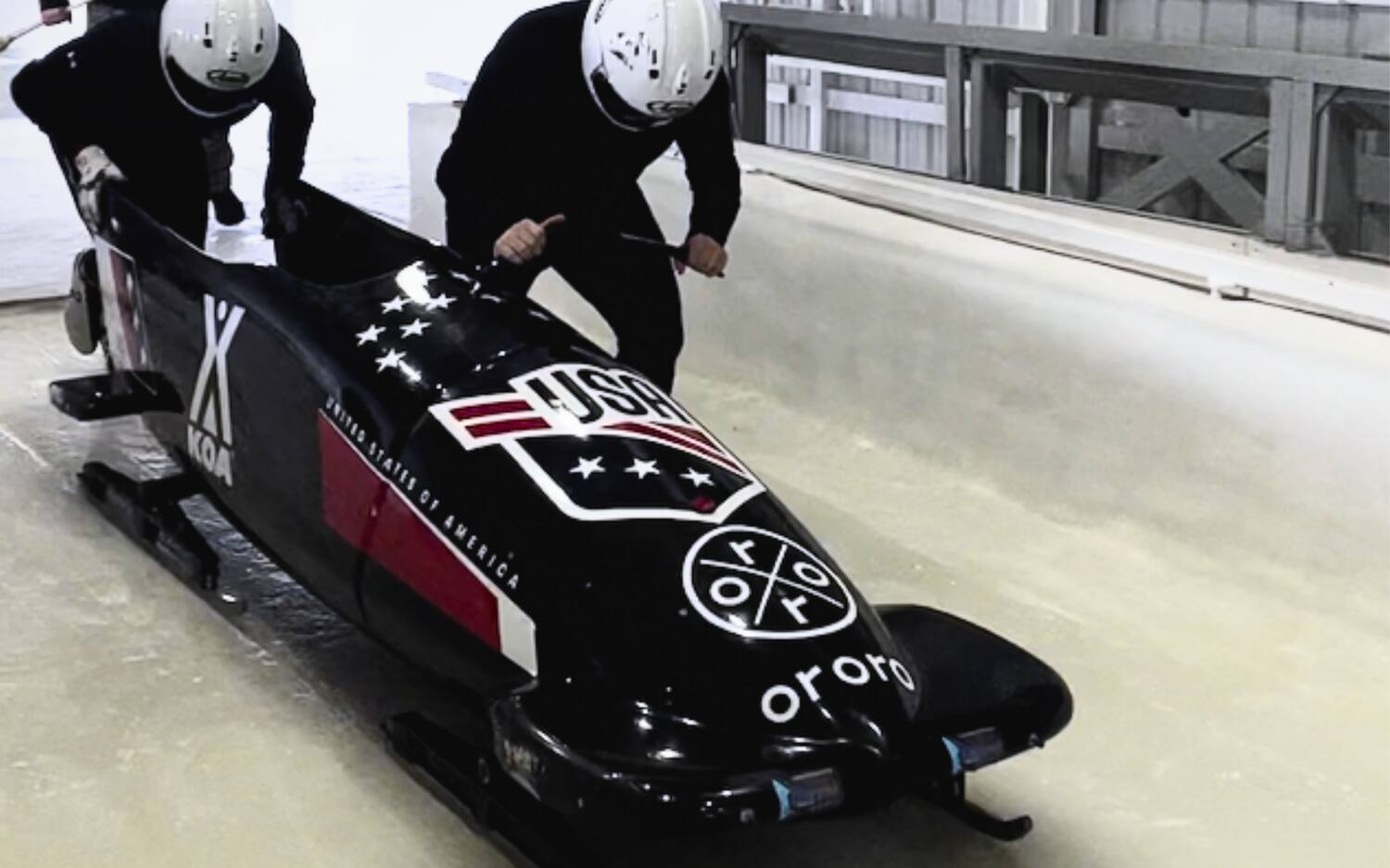 LAKE PLACID, NY (March 20, 2023) -Presented by Ororo Heated Apparel, the 2023 Skeleton Selection Races and the USABS National Championships for both Skeleton and Bobsled took place this weekend at Mt. Vanhoevenberg.
On March 18 and 19, four total heats (two per day) took place for Skeleton Selection Races, the total of all four runs counting towards the results for the USABS National Championships and the two runs daily counting towards the selection process. For Bobsled, Women's Monobob and 2-Man took place on the 18th while 2-Woman and 4-Man took place on the 19th.
In 2-Woman Bobsled, Nicole Vogt placed first alongside Emily Renna with a 2-run time of 1:56.00. On a bittersweet note, Vogt also announced that she will be retiring.
"I have decided to retire, so today was my last race. Wrapping up my career on home ice as National Champions with Emily was really special. It's been an honor to represent Team USA and USABS for the past 12 years. Thank you to everyone that's been part of my bobsled journey. I'm excited for the next season of life with time and space for something new," she shared.
Also in 2-Woman, Riley Compton and Macy Tarlton placed 2nd with a time of 1:56.97. Lauren Brzozowski and Mia Lobel placed 3rd with a time of 157.60. Sylvia Hoffman slid into the driver's seat alongside brakeman Eboni Birch, earning her a 4th-place finish with a time of 1:57.61. Elana Meyers Taylor took her first bobsled runs since competing at the 2022 Olympic Winter Games and giving birth to her second child. In 2-Woman, she slid with Amanda Fay, coming in 5th with a 2-run time of 1:57.66. Kaysha Love, who is currently transitioning from the brakeman's seat to the pilot's position, came in 6th with a time of 2:05.12 alongside teammate Rylie Matthews.
In Women's Skeleton, Sara Roderick took first place with a 4-run total time of 3.44.40. Mystique Ro placed 2nd with her time of 3.44.64. Michelle Toukan placed 3rd with a combined time of 3.50.78. Logan Wudi and Annika Knizek placed 4th and 5th, with times of 3.58.20 and 4.02.29, respectively.
"So excited and grateful to be back racing. My team is so fun to be around and it is great to be with them in full health. For sure can bring some more consistency next season but overall happy. Big shout out to Caleb for all his help this season. Stoked to have had some big pushes. Sending speedy recovery and good health to my teammates not here to join and ready to have a strong off-season!" Roderick shared.
For the award of Fastest Start, Darryl Payne took first for the men and Roderick took first for the women. For the award of Most Consistent, Nick Tucker and Toukan took first.
In Men's Skeleton, Austin Florian placed first with her combined time of 3.38.47. Andrew Blaser placed 2nd with a time of 3.38.77. Dan Barefoot took 3rd with his time of 3.39.94. Hunter Williams placed 4th with his 3.42.66 finish. Bradley Nicol placed 5th with a time of 3.43.57, Matthew Fortney placed 6th with his 3:45.95 time, Tucker came in 7th with a time of 3:48.70 and Sam Arquit placed 8th with a time of 3:51.29. Rounding out the pack, Payne took 9th with a time of 3:51.97, Nicholas Brooks and Andrew Whittier-Neises tied for 10th with a time of 3:56.14 and Lucas Kissel came in 12th with a time of 3.56.23.
"I'm feeling very good about today! Finished up the season on a high note by winning trials and national championships. It's been an awesome season and I'm very happy with my results. I am very ready to take some time off and recharge," Florian shared about his triumphant season-ending performance.
In Women's Monobob, Brzozowski took first with a two-run time of 2.03.70. Compton placed 2nd with a time of 2:03.72. Vogt placed 3rd and Hoffman placed 4th, with times of 2:03.73 and 2:05.45, respectively.
In 2-Man Bobsled, Geoff Gadbois and Paul Rabic placed 1st with a 2-run time of 1:54.39. Kris Horn and Brandon Jetter placed 2nd with a time of 1:55.75 while Zach Snyder and Charles Mangold took 3rd with a time of 1:57.47.
In 4-Man Bobsled, Frankie Del Duca, Elliot Earkuson, Darius Joseph, and Gabe Watson placed first with a 2-run time of 1:54.29. Snyder, Dylan Reda, Tyler Madl, and Eli Rollins placed 2nd with a time of 2:04.42.
In Para Sport news, the USABS Para National Championships also took place this weekend. In the Seated Class division of Para Bobsled, Bob Balk came in 1st with a time of 2:17.22, Will Castillo finished in 2nd with his 2-run time of 2:17.38 and David Christopher placed 3rd with a time of 2:19.62. In the Push Class division, Gary Welland placed 1st with a time of 2:04.62 and DJ Skelton placed 2nd with a time of 2:07.44. In Para Skeleton, Mike Villagrim placed 1st with a time of 1:58.64, Chris Tarte placed 2nd with a time of 2:02.46 and Lee Kuxhaus placed 3rd with a time of 2:09.62.
Next weekend, the action will continue when the North American Cup (NAC) comes to Mt. Vanhoevenberg on March 24-27.
For media inquiries, please contact USABS' Digital Media & Communications Manager Abby Slenker at abby.slenker@usabs.com.
###
About USA Bobsled/Skeleton
USA Bobsled/Skeleton (USABS), based in Lake Placid, N.Y., is the national governing body for the sports of bobsled and skeleton in the United States. For more information, please visit the USABS website at www.usabs.com. Individuals interested in becoming a bobsled or skeleton athlete can visit www.usabobsledskeleton.com.